Who is online
Users browsing this forum: No registered users and 1 guest
Moderators: Site Administrators, Moderator
General Rules:
These forums are for the healthy exchange of ideas, information or other content related to the topics of the Gatorsports.com messageboards. While discussions are likely to become spirited, counterproductive behavior will be moderated, and users who demonstrate an inability to constructively contribute to the Gatorsports forums will face punitive measures.
Depending on the severity of the infraction, moderators may warn posters via PM, suspend posters, or take other actions to preserve the integrity of the messageboards.
Posters may not:
- Post content that is obscene or racist; or post links to websites containing such material
- Threaten, harass or stalk other posters.
- Post personal information about other posters, including name, address, phone number or other similar information.
- Repeatedly personally attack other posters. A personal attack is vulgar name calling or a post that maliciously targets a person's gender, race, religion, sexual orientation, family, etc.
- Advertise competing products or services or other commercial content
- Excessively spam the forums.
- Link to websites or files that may harm computers
- Post adult language, even language altered with characters in place of letters.
- Post pictures containing nudity, obscene gestures or other inappropriate content (this includes thongs)... Posters should doublecheck any website addresses branded on pictures as well.
- Facilitate software and music piracy, drug use, or any other illegal acts
- Post copyrighted material. They can quote a brief article section to be discussed with a link to the full article.
- Avatars/signatures/images containing women or men showing more skin than clothes is not allowed.
- Start threads that are not on topic.
Guidelines for posting in the forums

1. Gatorsports Forum: This forum is for sports-related threads ONLY. It is not limited to University of Florida sports. A certain level of sports-related joking is permitted, but if it rises to the level of spamming (multiple threads on the same topic), those posters are subject to a temporary suspension. If you have to ask yourself, "Is this sports related?", it probably isn't.
2. The Lounge: This forum is for any and all threads which are not sports related (other than ticket threads). This includes jokes, news, member gatherings, requests for information to the admins, etc.
3. Recruiting Board: A forum for all Gator recruiting info, as well as recruiting updates of Gator opponents.
4. Politics Forum: This forum is dedicated to any and all discussions about politics and religion.
5. The Fark Board: This is a forum for Gators to post funny pictures of their rivals, get help with your AV/Signature, or ask for general image help/ideas.
6. Ticket Swap: This forum is for posters who are looking for tickets to an event or who have tickets to sell. If you post a ticket-related thread in the general forum, it will be moved to the ticket forum. Only LEGAL ticket swaps/sales will be allowed here.
7. The Dungeon: This forum is where threads started by trolls (or regular posters acting like trolls) will be sent to rot. It is also the place for threads to be sent when they have run their course; and for threads which address a particular poster. We have a PM function for that purpose. Finally, if threads become an internet tough guy match (you know who you are), they will be dumped here. Save the fighting for PMs.
Only in very rare circumstances are threads deleted. If you no longer see your thread in the general forum, it has either been buried by new posts, moved to it's proper Forum or moved to The Dungeon. If there was any content that was deemed not appropriate, it is in the Admin Forum, and it will probably appear as though we deleted it.
We don't like suspending people, because we are all adults for the most part, but it is done when necessary. If everyone will follow the rules (they aren't exactly rocket science), the forums will be a more pleasant place for everyone.
Please take at least a quick glance on the first page of the forum before starting a new thread to see if there is already an existing thread on the subject. There is no prize awarded by Gatorsports for those who post breaking news first.
One final note: Use the report button located in every post to report something that is totally inappropriate (very foul language, nudity, personal attacks/threats) to the administrators. We reserve the right to remove any poster from the forum that we deem a nuisance.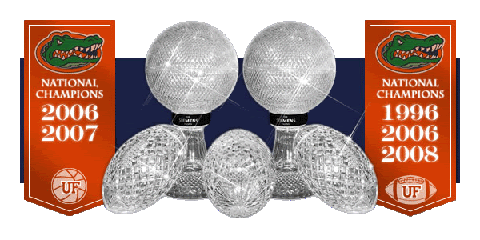 Heisman Gator
Posts: 1643
Joined: Thu Feb 04, 2010 8:00 pm
Location: @RealGatorRuss
---